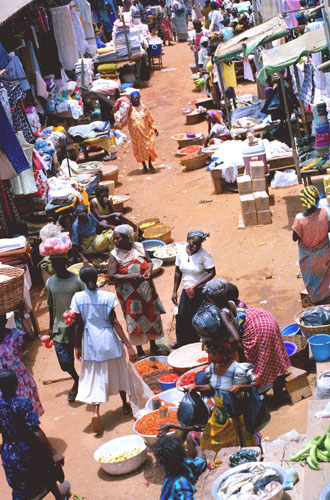 A couple of months back, I was in Ghana to work on a Microfinance Project under Global Brigades. It was an amazing experience to be working in one of the communities in Ghana, so closely with the locals in such a short time. There were the stuff you expected – lack of access to clean water, or electricity (mostly because of the expense rather than the lack of infrastructure in the case of Ghana). But there were also things I didn't quite expect – the widespread use of mobile phones, the fact that the young university students had Facebook accounts and how Akon and Rihanna were singers familiar to them.
It is also one of the first time I see so many kids at the same time, gathered together and so many young people around – this is when I realised that is what the first steps of development looks like. This is the point of time when access to medicine is improving, public health education more widespread and economic conditions were picking up following positive economic reforms. Indeed, it is when the population pyramid beginning to show marked effects of falling infant mortality (was 76 in 1990, fell to 47 in 2009) and child mortality (was 120 in 1990, fell to 69 in 2009) in the past 10 years. In Ghana, I actually felt what these statistics meant and saw for myself what it says about the lives of people.
Everyone I spoke to was optimistic about the future and the development of their country though some of the older ones were more skeptical about how much their lives would improve. The university students in particular were full of energy and ready to take the ideas they've picked up and use them out there at work if the opportunities come by. With so many youngsters and kids, teaching becomes an extremely important job and teachers are held in high esteem. The other important development statistics appear to be in favour of the country; literacy is climbing, and so is urban development. I can only hope that things continue to improve. Perhaps learning about the situation of countries through their statistics works only to the extent you can imagine the conditions of the people and the situation there. After a while, it just becomes something rather lifeless (just as I've experienced after researching through the key growth indicators of more than 10 European markets) – but be reminded of how those figures comes alive, and you'd probably appreciate them better.